Injection molding is a manufacturing process for producing parts by injecting material into a mold. Injection molding can be performed with a host of materials, including metals, (for which the process is called casting), glasses, elastomers, confections, and most commonly thermoplastic and thermo-setting polymers. Material for the part is fed into a heated barrel, mixed, and forced into a mold cavity, where it cools and hardens to the configuration of the cavity.
After a product is designed, usually by an industrial designer or an engineer, molds are made by a mold maker, usually out of either steel or aluminum, and precision machined to form the features of the desired part. Injection molding is widely used for manufacturing a variety of parts, from the smallest components to entire body panels of cars. Advances in 3D printing technology, using photo-polymers which do not melt during the injection molding of some lower temperature thermoplastics, can be used for some simple injection molds.
Examples of Injection Molded Parts:


Parts to be injection molded must be very carefully designed to facilitate the molding process; the material used for the part, the desired shape and features of the part, the material of the mold and the properties of the molding machine, must all be taken into consideration. The versatility of injection molding is facilitated by this breadth of design considerations and possibilities.

Injection molding uses a ram or screw-type plunger to force molten plastic material into a mold cavity; this solidifies into a shape that has conformed to the contour of the mold. It is most commonly used to process both thermoplastic and thermosetting polymers. Thermoplastics are prevalent due to characteristics which make them highly suitable for injection molding, such as the ease with which they may be recycled, their versatility allowing them to be used in a wide variety of applications and their ability to soften and flow upon heating. Thermoplastics also have an element of safety over thermosets; if a thermosetting polymer is not ejected from the injection barrel in a timely manner, chemical cross-linking may occur causing the screw and check valves to seize and potentially damaging the injection molding machine.

Injection molding consists of high pressure injection of the raw material into a mold which shapes the polymer into the desired shape. Molds can be of a single cavity or multiple cavities. In multiple cavity molds, each cavity can be identical and form the same parts or can be unique and form multiple different geometries during a single cycle.
Animated Plastic Injection Molding Operation: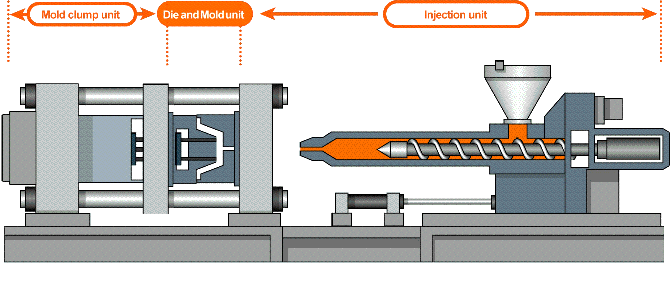 Molds are generally made from tool steels, but stainless steels and aluminum molds are suitable for certain applications. Aluminum molds typically are ill-suited for high volume production or parts with narrow dimensional tolerances, as they have inferior mechanical properties and are more prone to wear, damage, and deformation during the injection and clamping cycles. However, aluminum molds are cost-effective in low-volume applications, as mold fabrication costs and time are considerably reduced. Many steel molds are designed to process well over a million parts during their lifetime and can cost tens of thousands of dollars to fabricate.