Wire forming is a term that incorporates many shapes, sizes and dimensions. The forms are engineered in two or three dimensions and commonly generated from coils of metal wire. In some cases, the raw material commences production in blank forms that are fed from a hopper.
A wire form may be defined as any length of wire that has had some force applied to it that changes its shape. Wire can be round, flat, hexagonal, square, oval, triangular, elliptical or D-shaped, just to name a few. Wire can be made of low-carbon steel, medium- carbon and high-carbon steel. It can also be made of stainless, aluminum, copper, brass and an assortment of other alloyed materials. Wire Forms include, clips, coiled parts, display stands, fittings and fixings, hooks, baskets and welded wire fabricated assemblies.
Examples of Wire-Formed Parts: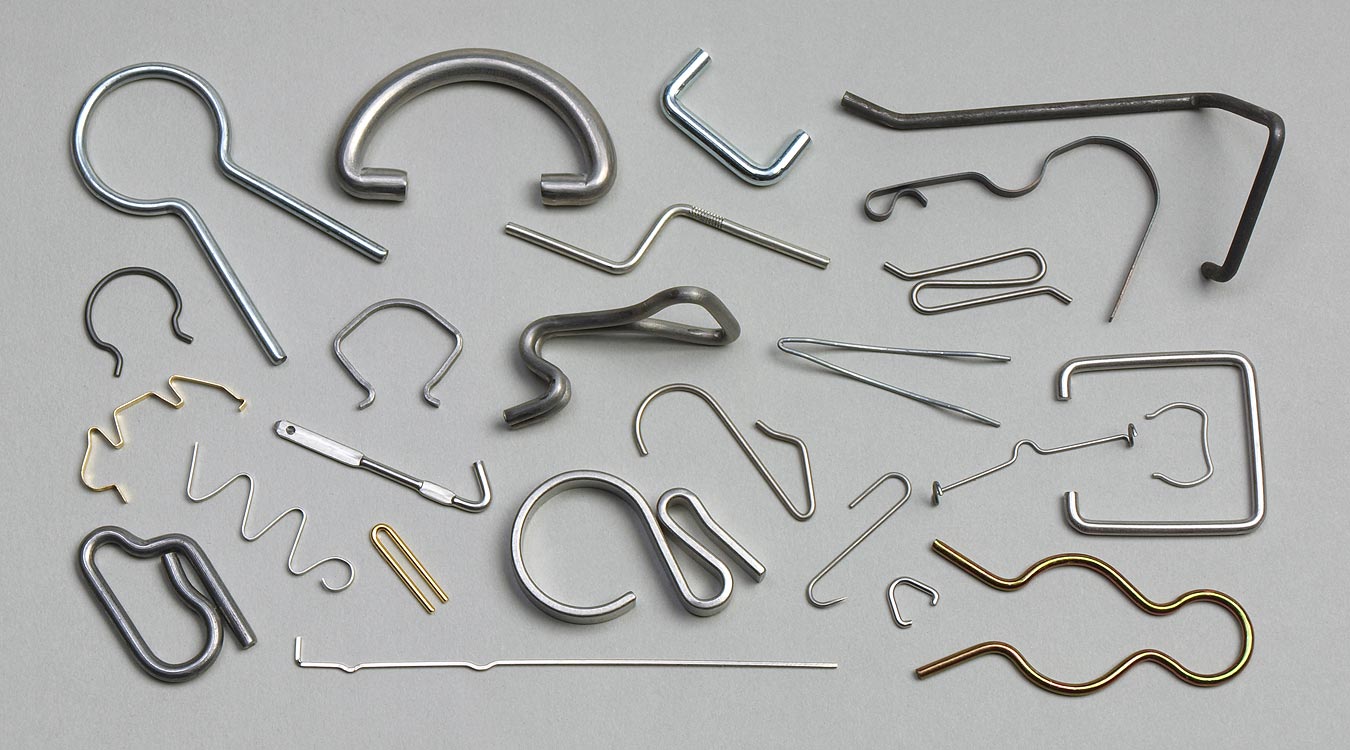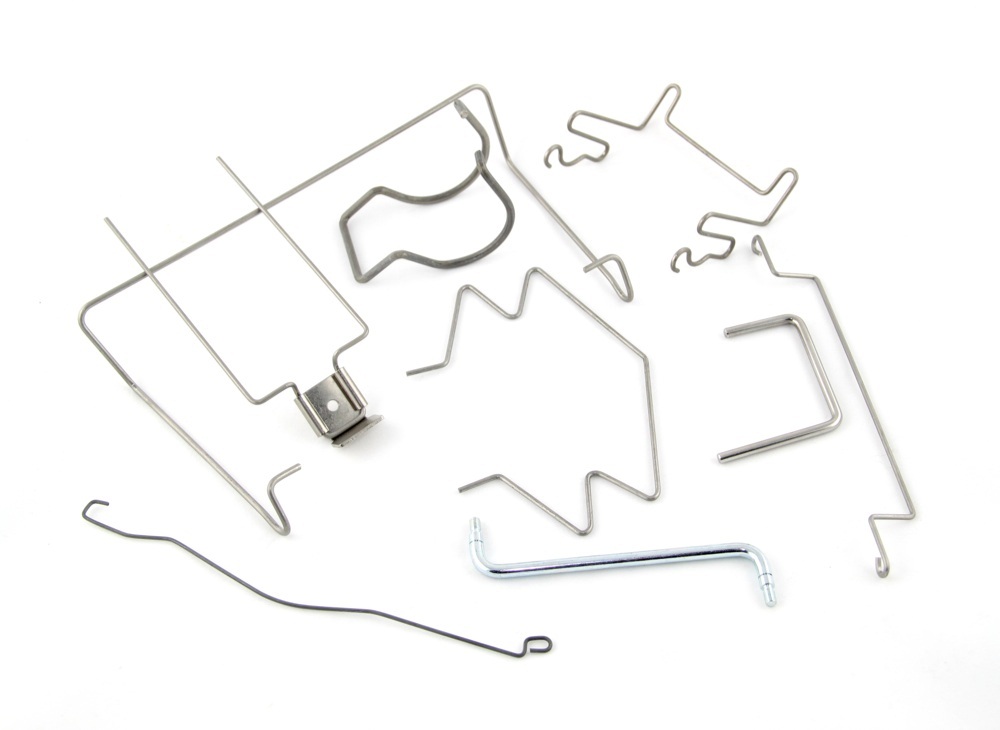 Industry sectors utilizing wire formed components includes agriculture, automotive, cable management, construction, display, electronics, engineering, furniture, garden, healthcare, horticulture, industrial, insulation, leisure, medical and pre-cast concrete, and retail.
In wire forming, force is applied to change the contour of wire by bending, swaging, piercing, chamfering, shearing, or other techniques. The various techniques for wire forming can produce any type of shape, form, or configuration. The process starts with coiled wire that is straightened before being formed.
Common metals used for wire forming include steel, brass, stainless steel, copper, aluminum, and a variety of different alloys. The diameters of wires vary from 0.5 mm to 6.5 mm, or 1/64th of an inch to a quarter inch and can produce 2 and 3 dimensional wire forms.
With many manufacturers, hard tooling is required to form specific wire shapes. However, we have multiple CNC wire formers that only require programming to achieve a desired shape. We generally do not require hard tooling of any kind.
Typical CNC Wire-Forming Machine:
CNC Wire Former Operation Video – Click Here
Industries We Serve; Components, Parts and Services We Provide – CLICK HERE

Aircraft Component Parts and Supplies
Automotive Component Parts Fasteners and Supplies
Biotech Machined Components Parts and Fasteners
Construction Fasteners, Supplies and Tools
Defense & Military Fasteners, Hardware and Machined Component Parts
Electrical Connectors, Insulators, Lugs, Terminal Blocks, Assorted Supplies
Electronic Component Parts and Supplies
Firearms Machined Components Parts and Fasteners
Food & Beverage Fasteners, Machined Component Parts, Fasteners and Supplies
Medical Machined Components Parts, Fasteners and Supplies
Oil Field and Energy Components Parts and Fasteners and Supplies
Water Filtration and Distribution Injection Molding, Machined Components, Fasteners and Supplies
PLEASE CALL US FOR QUESTIONS OR A QUOTE: (916) 202-1104 TOLL FREE FAX LINE: (866) 265-0011 or Email Us